High-performance ARM SoM Powered by NXP i.MX 8M
MYIR introduces a high-performance ARM SoM MYC-JX8MX CPU Module, which is built around the NXP i.MX 8M Quad processor featuring 1.3GHz quad ARM Cortex-A53 cores and a real-time ARM Cortex-M4 co-processor. The module runs Linux and is capable of working in extended temperature ranging from -30°C to 80°C.
Measuring 82mm by 52mm, the MYC-JX8MX CPU Module has integrated 1GB/2GB LPDDR4, 8GB eMMC, 256Mbit QSPI Flash, Gigabit Ethernet PHY and PMIC on board. A large number of I/O signals are carried to or from the i.MX 8M CPU Module through one 0.5mm pitch 314-pin MXM 3.0 expansion connector, making it an excellent embedded solution for Scanning/Imaging, Building Automation and Smart Home, Human Machine Interface (HMI), Machine Vision and more other consumer and industrial applications which requires high multi-media performance.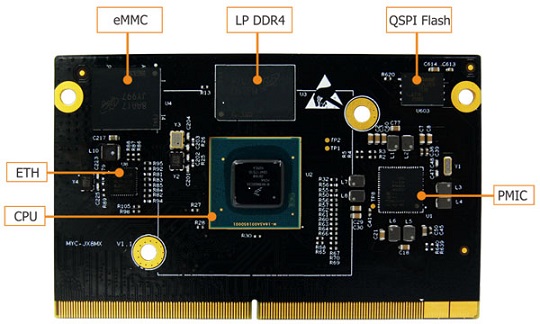 MYC-JX8MX CPU Module (delivered with heat sink by default)
MYIR also offers a versatile platform MYD-JX8MX development board for evaluating the MYC-JX8MX CPU Module. It takes full features of the i.MX 8M processor and has brought out rich peripherals through connectors and headers such as 4 x USB 3.0 Host ports and 1 x USB 3.0 Host/Device port, Gigabit Ethernet, TF card slot, USB based Mini PCIe interface for 4G LTE Module, WiFi/BT, Audio In/Out, HDMI, 2 x MIPI-CSI, MIPI-DSI, 2 x LVDS display interfaces, PCIe 3.0 (x4) NVMe SSD Interface, etc. It is delivered with necessary cable accessories for customer to easily start development as soon as getting it out-of-box. A MIPI Camera Module MY-CAM003 is provided as an option for the board.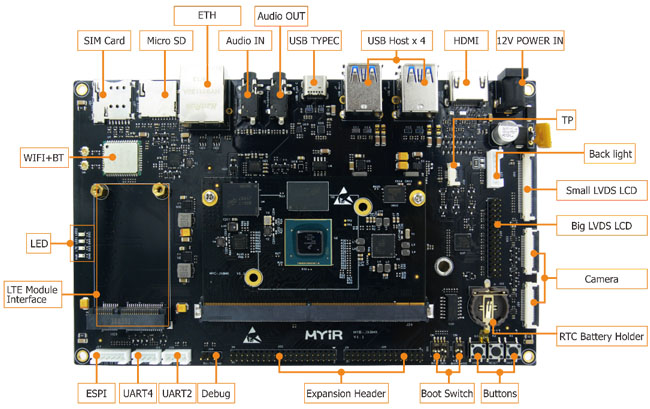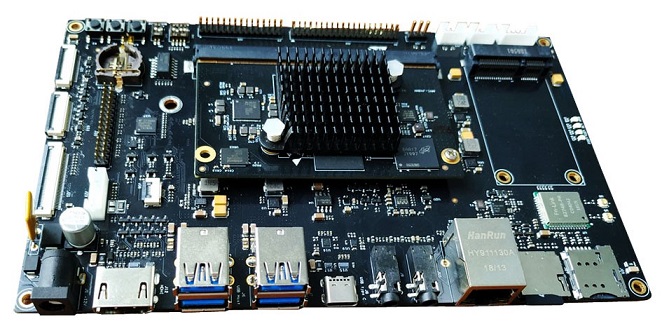 MYIR offers 1GB or 2GB RAM selections for the CPU modules and development boards which have very-high powered prices to compare.
Part No.

Item

Processor

LPDDR4

eMMC

Unit Price

MYC-JX8MQ6-8E1D-130-E

NXP i.MX 8M Quad Processor based on 1.3GHz Quad ARM Cortex-A53 and 266MHz Cortex-M4 cores
(MIMX8MQ6CVAHZAB)

1GB

8GB

$99

MYC-JX8MQ6-8E2D-130-E

2GB

$119

MYD-JX8MQ6-8E1D-130-E

1GB

$279

MYD-JX8MQ6-8E2D-130-E

2GB

$299

Supports extended working temperature ranging from -30°C to 80°C.