Evaluation of MYIR's i.MX 8M Mini based SOM and EVM
The MYC-C8MMX CPU Moduleis designed by MYIR, which is an ARM embedded System-on-Module (SoM) based on NXP' i.MX 8M Mini Quad Application Processor. The MYD-C8MMX development board is built around the MYC-C8MMX CPU Module, it is a complete evaluation module for your prototype and reference design. It is capable of running Linux and Android OS and provided with plenty of software resources. Typical applications are for Industry Control, Smart City, Smart Home, HMI, Internet of Things (IoT), etc.

Let's see a video introduction of the MYD-C8MMX development board.
The MYC-C8MMX CPU Moduleis using the MIMX8MM6CVTKZAA (MIMX8MM6DVTLZAA) processor chip which is among the NXP i.MX 8M Mini family and combines advanced 14LPC FinFET process technology to provide more speed and improved power efficiency. It has a quad Cortex-A53 core which operates at speeds of up to 1.6 (1.8) GHz. It also has a general-purpose Cortex-M4 400 MHz core processor for low-power processing. Some parameters and target applications of the processor chip are listed below for reference.
| | |
| --- | --- |
| Parameter | Value |
| Core: Number of cores (SPEC) | 4 |
| Core Type | Arm Cortex-A53 |
| Operating Frequency [Max] (MHz) | 1600 (MIMX8MM6CVTKZAA)/1800 (MIMX8MM6DVTLZAA) |
| L2 Cache (Max) (KB) | 512 |
| Co-Processor Type | Arm Cortex-M4F |
| Co-Processor Frequency (MAX) (MHz) | 400 |
| External Memory Supported | DDR3L SDRAM, DDR4 SDRAM, ECC, LPDDR4 DRAM, NAND FLASH, NOR FLASH, QSPI |
| GPU 2D / GPU 3D | 1x shader, Vivante GC320, Vivante GCNanoUltra |
MIMX8MM6CVTKZAA (MIMX8MM6DVTLZAA) processor
The chip only has MIPI-DSI and MIPI-CSI interfaces and no HDMI or other display interfaces. It can support wide working temperature range from -40 to 105 Celsius degree. MYIR's MYC-C8MMX CPU Module can support working temperature from -40 to 85 Celsius degree.
| | |
| --- | --- |
| Parameter | Value |
| HW Video Encoder / Decoder | HD1080p60 H.264, HD1080p60 H.265 |
| Video/Display features | MIPI-CSI, MIPI-DSI |
| PCIe | PCIe 2.0 x 1 |
| Audio Specific Modules | 8-ch PDM input, SAI |
| USB Controllers | 2 |
| Serial Communication | 1 x PCIe 2.0,3 x SPI,4 x I²C,4 x UART |
| Junction Temperature (℃) | -40 to 105 (MIMX8MM6CVTKZAA), 0 to 95 (MIMX8MM6DVTLZAA) |
MIMX8MM6CVTKZAA (MIMX8MM6DVTLZAA) processor
Target Applications of i.MX 8M Mini Processors

Automotive

Smart City

Heating Ventilation, and Air Conditioning (HVAC)

Automatic Vehicle Identification

Motorcycle Engine Control Unit (ECU) and Small Engine Control

Fleet Management

 

Inventory and Supply Chain Management

Industrial

Public Address Systems

Air Conditioning (AC)

Transport Ticketing

Building Safety

 

Building Security

Smart Home

Digital Signage

Audio/Video (AV) Receivers

Energy Gateway

Gaming Console

Heat Metering

Home Control Panel

Hospital Admission Machine

Home Security & Surveillance

Image Analytics

Home Sensor

Industrial Control

In-Home Energy Display

Industrial HMI

Major Home Appliances

Machine Visual Inspection

Robotic Appliance

Smart Lighting

Set Top Boxes

Smart Power Socket and Light Switch

Small and Medium Appliances

Two-way Video Conferencing

Smart Speaker

Vision, Advanced Sensing and Processing Board

Soundbar

 

Surround Sound and Sound Bars

Mobile

Wireless or Networked Speakers

Cable

 

Hearables

Technologies

Input Device (Mouse, Pen, Keyboard)

Voice Assistants

Smart Watch

Voice Control

Wireless Charging Pad

 

Wristband

 
The MYC-C8MMX CPU Module is a minimum system with PMIC, CPU, RAM (DDR4), Flash (eMMC, SPI Flash) and clock, plus an Ethernet PHY chip. A number of peripheral and IO signals are access through two 0.8mm pitch 100-pin board-to-board expansion connectors.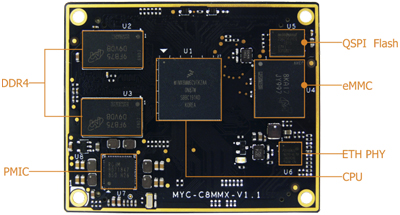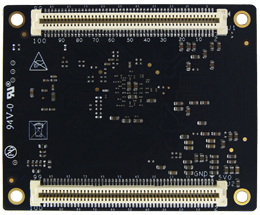 MYC-C8MMX CPU Module Top-view MYC-C8MMX CPU Module Bottom-view
The MYD-C8MMX base board has mainly extended four parts:
1. Audio interface: added audio chip to extend Audio input and output interfaces

2. External power supply part: added one DC-DC power chip
3. Added one USB hub chip to extend 4 USB from the SoC USB interface, separately used for 4G LTE, two USB Host and one USB on expansion header.
4. Extend RTC module through I2C interface
Many other peripheral interfaces are brought out for user extension.

MYD-C8MMX Function Block Diagram

MYD-C8MMX Interface Diagram
Among so many interfaces, Backlight, LVDS LCD and MIPI interface are relative to display function. The Backlight interface has 6 pins including two power signals, two GND and two GPIO (one is enabled terminal to control the backlight power and another is PWM to control the brightness of backlight.)
The two GPIO control terminals are from the GPIO1_01 and 08 of the i.MX 8M Mini.
The LVDS LCD and MIPI interface, total 3 interfaces are for display. But actually i.MX 8M Mini only has one MIPI DSI interface. The other two LVDS interfaces are switched from DSI through one DS12LVDS bridge chip, one is single link LVDS and another is dual link LVDS. So, we can only select MIPI DSI display or LVDS display. Also, we can only select single link LVDS or dual link LVDS.
MYIR offers optional LVDS based 7-inch LCD Module MY-LVDS070C including capacitive touch screen to work with the MYD-C8MMX board. The display resolution is up to 1024 by 600 pixels.

MY-LVDS070C 7-inch LCD Module with Capacitive Touch Screen
The MYD-C8MMX has one 2.0mm pitch 2*15-pin male expansion header. PDM and SAI are audio relative interfaces which are brought out from the expansion header.