MCUs and MPUs are becoming an inherent element of automotive Functional Safety
The Automotive industry is evolving on how vehicles are being conceptualized, designed, built, used, and sold. Because of this, most automotive OEMs are challenging their engineers to use advanced technologies (such as robust embedded computation, innovative Artificial Intelligence and Machine Learning, or full connectivity to the Internet of Things) to address how people will use their vehicles; also driver safety, energy and environmental, and traffic congestion concerns.
Those technologies demand reliable Functional Safety systems to enhance safety & security, improve powertrain emissions, and provide connectivity to other vehicles and infrastructure —part of what 5G network is aiming. Even when daring, no doubt the need for Functional Safety is a must-have in the automotive industry.
Automotive OEMs are now upgrading safety & security together with the driving experience by incorporating more features and capabilities into vehicles, including Advanced Driver-Assistance Systems (ADAS): Emergency Braking Assistance (EBA), Blind Spot Detection, Lane Departure Warning (LDW), or high-end Radar and Vision systems. Also, Self-Driving Vehicle technologies are pushing the safety systems development even further.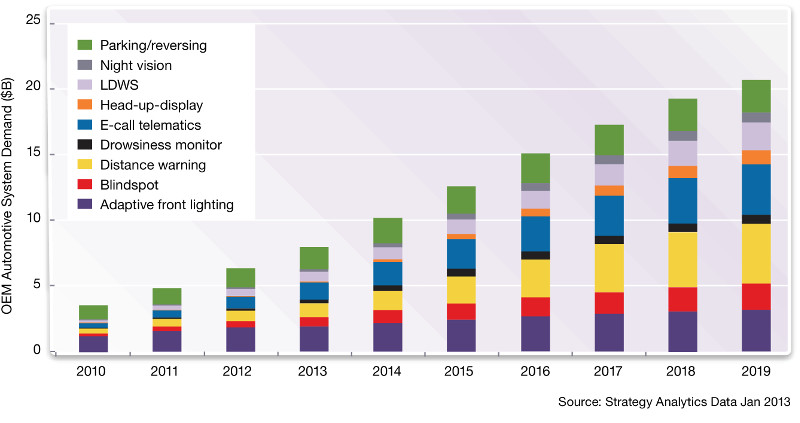 IMAGE: OEM automotive system demand - Strategy Analytics
One of the most significant challenges for automotive engineers is to meet the IEC 61508 and ISO 26262 expectations (in performance, power, and area) for developing safety-related systems while not to adversely affect the whole development or its cost to design or manufacture. The majority of the OEMs are answering this challenge by rising the number of in-vehicle processors to improve real-time capabilities and computation for greater control and safety.
Increases in demand for more complex and sophisticated electrical, electronics, and programmable safety-related systems comes the need for more complex and sophisticated microcontrollers and processors to assure the safety & security of drivers, passengers, and pedestrians. MCUs and MPUs are becoming an inherent element of most Functional Safety embedded systems.