MIPI CSI 2 cameras for NXP i.MX 8M series Application Processors
e-con Systems with over 15 years of experience in pioneering different cameras for embedded devices have been working towards integrating MIPI CSI-2 cameras to the i.MX 8M EVK from NXP. Our current pursuit to interface the e-CAM130_MI1335_MOD to the MCIMX8M-EVK was successful and we have evaluated the following resolutions and framerates.
| | | |
| --- | --- | --- |
| S. No | Resolution | Framerate (per second) |
| 1 | 640×480 | 120 |
| 2 | 1280×720 | 80 |
| 3 | 1920×1080 | 80 |
| 4 | 3840×2160 | 30 |
| 5 | 4192×3120 | 13* |
Table 1 : Resolutions and framerates supported
* – under development. Expected to go higher.

The MCIMX8M-EVK is the official evaluation kit for the i.MX 8M series application processors from NXP. It has a quad core ARM Cortex A53 running at 1.5 GHz and an ARM Cortex M4 core for low power operations and 3GB of LPDDR4 RAM. The MCIMX8M-EVK supports 2 MIPI CSI2 cameras in 4 lane configuration simultaneously. It also has other IO options such as a DSI display interface, HDMI 2.0, USB 3.0, MicroSD, Ethernet and Audio out. This configuration is ideal for designing low power devices such as OTT STBs, AV receivers, handheld devices, machine visual inspection systems and other general-purpose HMI solutions.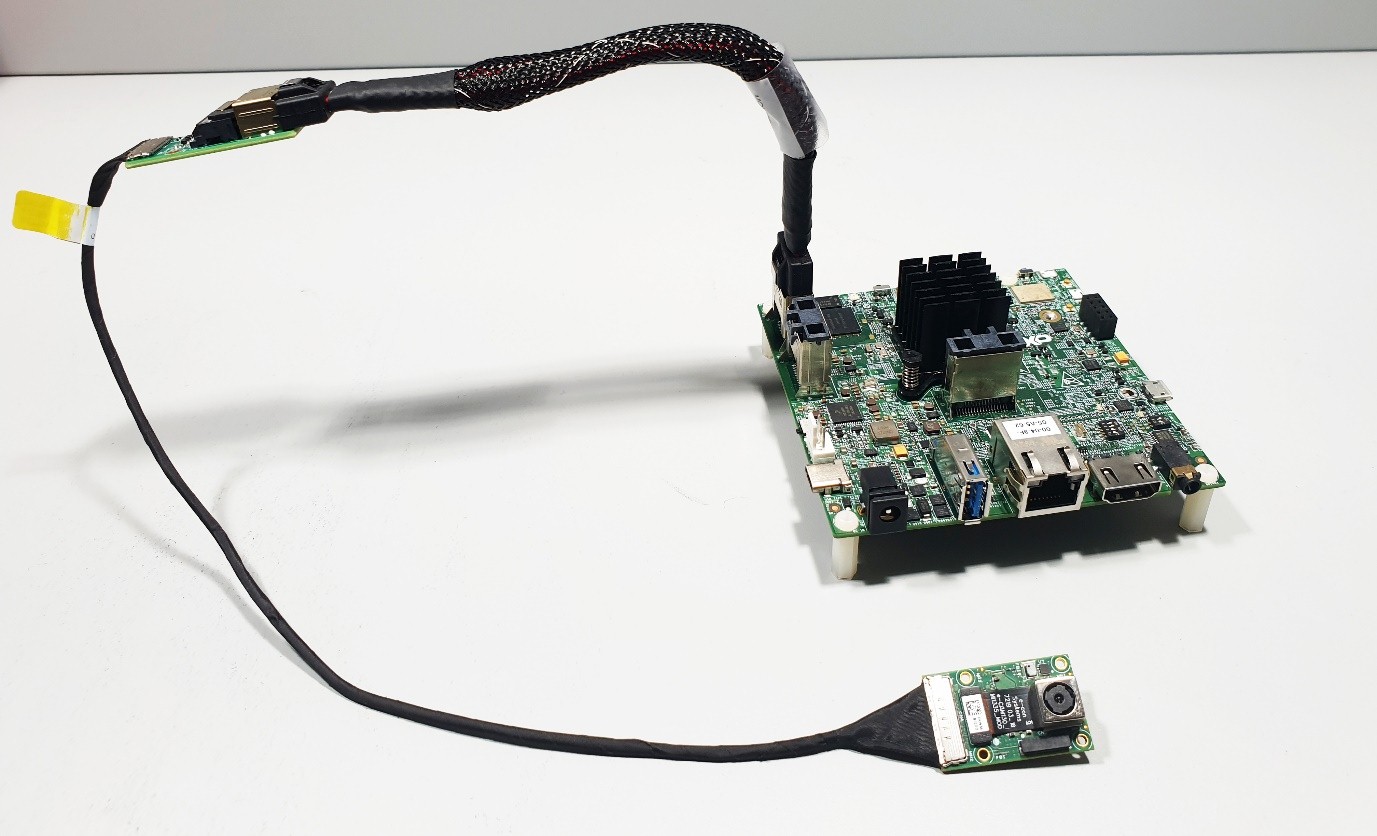 The e-CAM130_MI1335_MOD uses the 1/3.2" AR1335 rolling shutter sensor from ON Semiconductor. This sensor supports a maximum resolution of 13MP with an active pixel array of 4208×3120. We have also added additional features such as 3A (Auto Exposure, Auto Focus, Auto White Balance) and HDR imaging using a dedicated onboard ISP. The output format of the camera is UYVY which removes the need for bayer demosaic processing on the host processor. This camera is ideal for developing high resolution imaging with HDR for close range machine visual inspection.
You can soon expect our launch for various camera products for the i.MX 8M platform. Please check out our product page for updates.