ConnectCore® i.MX53 / Wi-i.MX53 by Digi International
ConnectCore® i.MX53 / Wi-i.MX53
Freescale i.MX53 Cortex A8 system-on-module

The network-enabled ConnectCore for i.MX53 is a highly integrated and future-proof system-on-module (SoM) solution based on the new Freescale i.MX53 application processor with a high performance 1 GHz ARM Cortex-A8 core, wired and wireless connectivity, powerful 1080p/720p video encoding/decoding capabilities, dual-CAN bus interface and a complete set of peripherals.
The ConnectCore for i.MX53 family builds on the successful ConnectCore for i.MX51 modules by providing a form factor compatible option with significantly improved processing, memory, video and connectivity capabilities. It is a scalable and energy-efficient module family that is ideal for medical devices, security/surveillance equipment, industrial applications, kiosk systems and digital signage integration.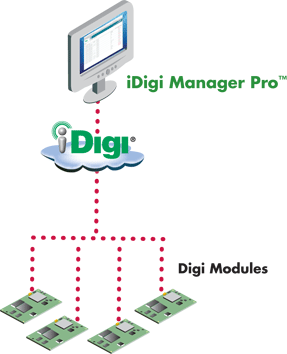 Modules in the ConnectCore i.MX family feature the design, development and administrative advantages offered by the iDigi® Device Cloud™. This secure, highly scalable platform seamlessly ties enterprise applications and remote devices together.
iDigi Manager Pro empowers IT, network operations and customer support organizations to conquer the challenges of managing equipment in their device networks. Network managers can remotely configure, upgrade, monitor and troubleshoot remote devices, and create applications that improve productivity, speed and efficiency.

http://www.digi.com/products/wireless-wired-embedded-solutions/solutions-on-module/connectcore/conne...